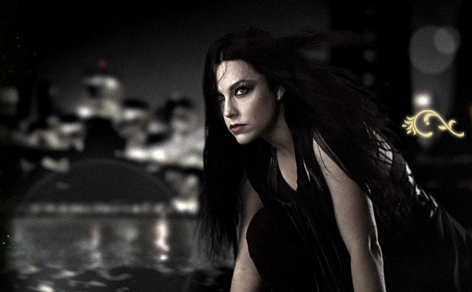 Evanescence "What You Want"
Directors:  Meiert Avis,  Stefan Smith
Location: New York
Evanescence. Its a new band, a new album, some time off, and some anxiety all around.
.
I like Evanescence's other videos, they have a goth story and level of production design thats superb.
The brief  was more "realistic" so we didn't really have to compete head on.
Just as well, as budgets are not what they were.
The symbolic narrative is about the band coming out of the media world, returning to their roots in Brooklyn. Re-establishing the connection with fans,  and then going back out into the wide world, the sea.
Locking up the Brooklyn bridge. Not so easy. Some people were great, some people were just "New York", and some tried to run us down with their bicycles. Exciting.
Fortunately Evanescence fans are what they always were. The warehouse in Brooklyn was boiling hot, to the point of passing out.
The last shots were shot at Dawn  at the rides and on the beach at Coney Island, the worlds' most neglected piece of real estate. The beach is littered with washed up needles and the dreams of Real Estate developers.
I hadn't been there since shooting Bruce Springsteen's  "Tunnel of Love" video in 1987. Not much has changed for the better.
My guess is that the whole place will be torn down and turned into hotels in the next boom, so if you have a Coney Island story to tell, now is the time.
The behind the scenes:
Canon Mark IV, Zeiss, Ringlight.
Directors: Meiert Avis & Stefan Smith
Producer: Jeremy Alter
DP: Pierrot Colonna
Thanks to:   Bill Richards