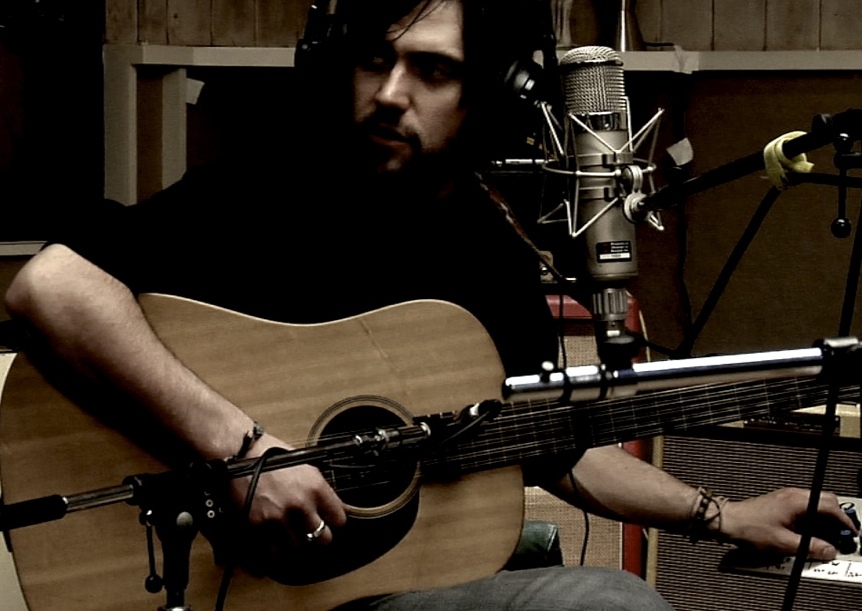 Monsters of Folk – Temazcal
Director: Meiert Avis
One of the great albums of 2009, and for me  by far and away the best live show of 2010.
Monsters of Folk assembled in Shangri-LA Studios in Malibu and re-recorded four of the album's songs live.
To keep it alive they took lead vocals on each other's songs, so here we have M.Ward singing Connor Oberst's song "Temazcal". I think it's even better than the one on record. Ward sings it like a ghost coming down off a trip.
blew open my mind now it's an empty room 
swingin in the hammock, dogs are walkin cross the roof i watch you braid your hair, you're from another time 
when the earth wasn't so angry, and god was on our side 
Conor Oberst ( Bright Eyes) is one of those cursed people who can throw away a brilliant  song before breakfast everyday.
M.Ward reminds me of James Joyce in his elegant and mysterious persona, though he's more of a Beat poet in the way he writes.
Jim James (My Morning Jacket) can sing better than angels, and smiles a great deal.
Mike Mogis is a musical god. Producer, multi-instrumentalist, arranger. Gentleman.
As a band they seemed to have a fashionable distain for video and cameras, as a result, paradoxically, it really  feels like you are in the room playing with them.
MOF is,  or maybe was, a super group. Not sure if the band still exists, but a second album would be very appreciated by many.
Will post the other songs up soon. "Sandman" next.
Sorry about the stupid After Effects "film look" scratches. Faking authenticity probably wasn't really necessary. I think I was just trying to make each of the four videos look different.
Shangri- La Studios sounds beautiful and anaolgue. It also has some history: Dylan, the Band, Clapton etc …. rumor is that its greatest days are still ahead.
 OVNIs on the lawn 
they're there and then they're gone.
    ONVI'S ??
Director: Meiert Avis
DP: Craig Kief
Engineer: Eric Lynn
Thank you: Jeff Ayeroff & Lydia Sarno
HVX, Leica
© Meiert Avis