FIRST CONTACT
Sitting alone in the studio in Santa Monica in late December 2002. It is the holidays and everyone has left. I am feeling lost. The phone rang, its The Firm,  and someone called Al  Masocco wants to know where he can find Meiert Avis to shoot a video. I had pretty much stopped making videos several years earlier and this Al Masocco thought "Meiert Avis" might be in Ireland somewhere.
Al turns out to be an original, a hit man from the old school, with a million stories, and a love of music and guitars. Al saw Hendrix play with the Isley Brothers and gave his life to music ever since. His timing was always excellent.
Audioslave were looking for a music video director. They had been through the usual label driven treatment process with various toy boy directors of the day and found nothing that made sense to them. Then each band member had made a list of their five favorite videos and from that data extrapolated who their consensus  #1 choice of director might be. It turned out to be Meiert Avis, the master of darkness. This triggered some discomfort at the label as Marc Romanek's recent epic video for  'Cochise" had been criticized for being "too dark". Cochise is one of the darker lyrics ever written, but who listens to lyrics except fans?
Al sends over the song. It's brilliant and I can feel it in my soul, especially there and then, in that airplane graveyard late on a winter afternoon. Once again I had been lucky enough to get a great song.
CONCEPTUAL
My first treatment was way over-written: The band recording music in a spooky decaying house. Outside the rain falls. Millenia pass in time lapse as deserted planets spiral around a dying sun. Los Angeles crumbles to dust, strung out along the veins of its derelict freeways. Inside the house windows and doors are being boarded up, the band under siege from unseen forces within and without, not zombies exactly, more ghosts. Northern Gothic. The house as Cornell's psyche. I had been thinking about a gothic novel called The House on the Borderland.  There was also a Last Supper undertow that finally surfaced in The Pretty Reckless "Miss Nothing" video. All this gothica, and the exterior scenes, got axed before the shoot. Their mood is still there for me but sometimes you have to get out of the way and just shoot the song.
In these situations the one idea everyone can usually agree on is that the band perform the song in a place that's visually interesting and not to far from the freeway.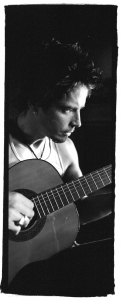 On a cold wet afternoon,
In a room full of emptiness by a freeway,
I confess I was lost in the pages of a book full of death;
Reading how we'll die alone.
And if we're good we'll lay to rest, anywhere we want to go.
Seattle in the '90's was a psychological disaster area. Why was there so much cheap Asian heroin available there, when compared to every other city in the US?  Who was flying it in, and why? Why did so many people self-destruct? Why was the music so great and so dark?
I  don't  know what this song was really about for Cornell, but for me it became about surviving Dublin, and being haunted by the ghosts of three friends. It's also about surviving catholicism and its cult of death.
LOCATION
We found a beautiful house above Silverlake. Jimi Hendrix had stayed there, and even written Purple Haze there, so it was apropriate on many levels. Empty, beautifully proportioned, textured paint finishes, huge windows.
VISUAL STYLE
Since it was going to be all about the band playing, I wanted a strong visual style behind the video. The composition uses negative space to evoke the absent. A room full of emptiness.
Inspiration came from emulating Vermeer's formalism, "houding", dead color, and flat shadow techniques.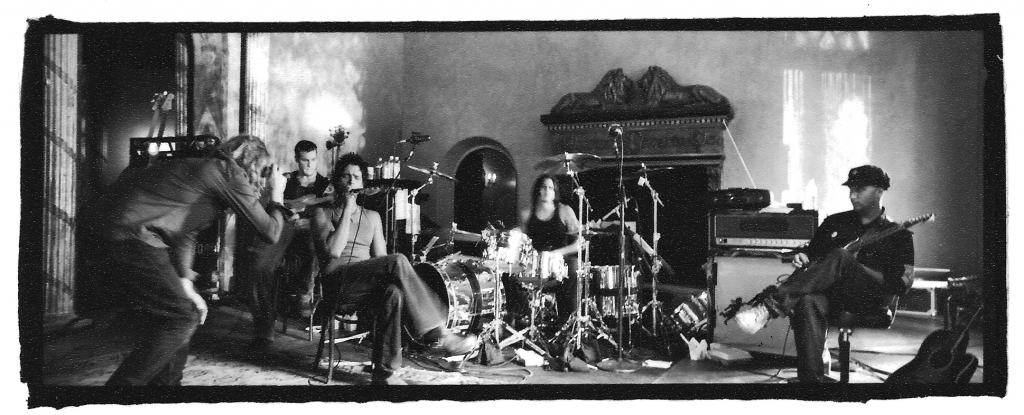 Which brings me to Danny Hiele The DP, and the use of arc lights. Danny is Flemish, a classically  trained painter as well as a great cinematographer. He owns this video visually.
Shooting with arcs is expensive and requires old school crew skills, but  there is nothing quite like it. Producer Oualid Mouaness had the challenge of making it happen.
By 2002 arcs were very rarely used in production in the USA. I think they are illegal now. Two carbon rods on fire? Not carbon neutral. A spit in the fire compared to endless war but hey.
John Guerra, our gaffer, digs around in the salvage yards at the rental houses and soon rebuilds five arc lights.  The carbon rods themselves come from an illegal horde in East Germany. The arc is a point source and has unique qualities.  It's always flickering imperceptibly, and like life, is not consistent. The arc matches daylight better than any other unit, since it is essentially a small sun burning in a dust bin.  There's a tension and discipline as the arc has got to be continually trimmed to keep the flame alive. We had a limted supply of carbons to burn, and we burnt them all.
The strange cool green/blue palette of the video was to suggest bruising and abuse. It comes from the gels on the arcs, and the Arri Varicon, which reduces contrast and lifts shadows with secondary color hues in camera. Varicon creates the cinematic equivalent of  the ground or imprimatura used by Vermeer.
Other crews have tried to get this look since, but HMI's don't even get close. Arcs are a pain, but there's nothing quite like them. Like film itself. Which may soon be illegal too.
SHOOT
It was a wonderful, dark and brooding shoot. Cornell got into his demons from the beginning and drank them under the table, while retaining his sobriety all the while. Morello was a sprite, full of life. Brad and Tim are solid muscle and the most committed rhythm section I have ever shot.
The video captures the band dynamics and mood at that time very accurately. Everyone on the set sensed that we were doing something powerful and lasting. At the same time this was very technical work, with precision camera choreography, long moves, limited depth of field and a high maintenance lighting set up.
The vocals, instruments and mikes were live and we mixed some of that ambient live room back into the audio.
I love this video. The band are epic, the song is timeless, and for once everything is just the way it was meant to be.

This is one of many cool videos from the SD/NTSC era that would be worth remastering in HD. The 35mm negatives hold so much detail that has really never even been seen yet. In this case there are no VFX so its not that complicated to do.
Producer: Oualid Mouaness
Director: Meiert Avis
D.P: Danny Hiele
Arc Gaffer: John Guerra 
Production: Designer Philip Duffin
Thank You: Al Masocco

© Meiert Avis 2012 Read more